OCTOBER 22, 2022
Catch the Fall colors at the top of Brasstown Bald - the highest point in Georgia!
You will be treated with a 360 degree view of the colorful trees dotting the Blue Ridge Mountains and surrounding areas!
What to Expect on Your Epic Fall Summit Hike to Brasstown Bald (365atlantatraveler.com)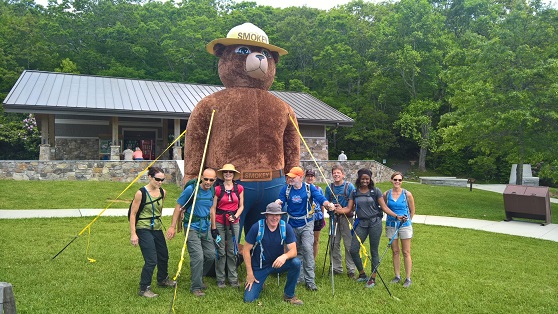 ***** NOT A BEGINNER OR SLOW PACED HIKE *****
For new members and/or members without recent AOC D5 hiking related experience, trip leader(s) approval is required to partipate in this event. Please email the trip leader(s) explaining your recent hiking related experience & history. You may be moved to the waiting list until we hear back from you and approve you for the hike.
The Arkaquah Trail hike is widely regarded to be one of the most popular, fun, challenging, and scenic in Georgia. Looking north from the overlooks, you can see Standing Indian Mountain and even parts of the Smokies as well. This is a 12-mile hike with some ups and downs, and fantastic views - lots of photo opportunities throughout the trail!
We start at Track Rock Gap, at 2,280 feet. The trail climbs 6.1 miles to 4,784 feet at the top of Brasstown Bald, the highest peak in Georgia. We return back down the same trail.

This trail is notorious for its long steep initial climb to gain the ridge crest - plan to sweat a bit and wish you had that extra cup of Starbucks coffee and fat free pastry before starting this adventure. The first 2 miles have an elevation gain of 2,200 feet - this is where you wish there was an escalator taking you to the top. From there, we will follow the rolling ridge line as it clears 4 mountains ranging from 3,600 to 4,300 feet. We will be cruising and feeling great at this time!

Once we arrive at the parking lot at the top, we will take the half mile paved tourist trail to the summit (There's a store and restrooms here if you need a quick break or snack). There is a museum and a 360-degree observation deck on very top. If it is clear, we will be able to see four states and reflect on nature and life. Definitely plan to take some pictures (Why not - you earned it!).

We will have lunch at the summit to re-energize for the hike back to the trailhead.

Please Note
Be courteous to other members on the waiting list - if you're not able to attend the event afterall, please don't wait to drop the day before or morning of the hike. Try to give as much notice as possible so other members can make their plans to attend the hike.
If you're a Garmin user, please join our 'Atlanta Outdoor Club (AOC) Garmin Users' group to connect with other AOC Garmin users and track your activity. Join us at: https://connect.garmin.com/modern/group/2255568