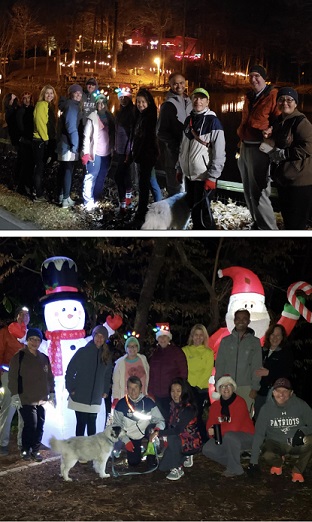 Ho ho ho...grab your mug of hot chocolate and join us for this festive evening urbanish hike to check out the Christmas lights and decorated homes around Berkeley Lake.
This is a 3.5 mile +/- urban hike mainly on paved streets (Some sections have sidewalks) with small amount of local neighborhood car traffic. There are several uphills and our pace will be casual to moderate. We will be hiking in the dark against traffic.
We will hike once around the lake's perimeter starting and finishing at Berkeley Lake City Hall parking lot across the street from Lake Berkely Chapel. You can't miss it.
*** Important Reminder ***
Please be sure to wear a headlamp or carry a flashlight, and wear reflective or bright clothing - you wanted to be seen by drivers! There is some local neighborhood road traffic, but generally very light. You are responsible for your own safety.
Lake Berkeley has been named a Tree City USA for 23 years!

Berkeley Lake Information & History: Berkeley Lake, Georgia - Wikipedia
Additional Notes:
Itinerary is subject to change before and/or during the event.
Event finishing time and route we take can fluctuate and dependent on the group hiking speed and other circumstances, so please be flexible.
If you're a Garmin user, please join our 'Atlanta Outdoor Club (AOC) Garmin Users' group to connect with other AOC Garmin users and track your activity. Join us at: https://connect. garmin.com/modern/group/2255568
Berkeley Lake Loop Route (There is also a side trail, but not shown on map):