There are 20+ miles of trails that had just under 2,600,00 visitors in 2021. If you have not taken part in this event before you will be able to look back at what we have accomplished knowing you have contributed the trails at KMNBP better for those hiking them. Due to weather five of twelve maintenance were cancelled in 2022. Due to these cancellations' maintenance is behind and the trails are in bad shape.
After a year of planning the reroute of the New Salem Church Trail has started. This is being done as a joint project between Cobb County and The National Park to improve the safety of those crossing Burnt Hickory Road. The promo picture shows that the county has already installed the new crossing lights and the north side of the new trail.
We will be working on the part of the New Salem Trail Reroute north of Burnt Hickory Road. The first part of this project is to clear all the leaves, other debris, and rocks between the flagged trees for a distance of over 150 feet.
For those that have taken part in previous workdays, there will be a few rule changes as to what we can and can not do for this event. Specfically all rocks between the flaged trees are to be removed regardless of age or depth.
If weather causes this event to be cancelled, it will be rescheduled for 1/28.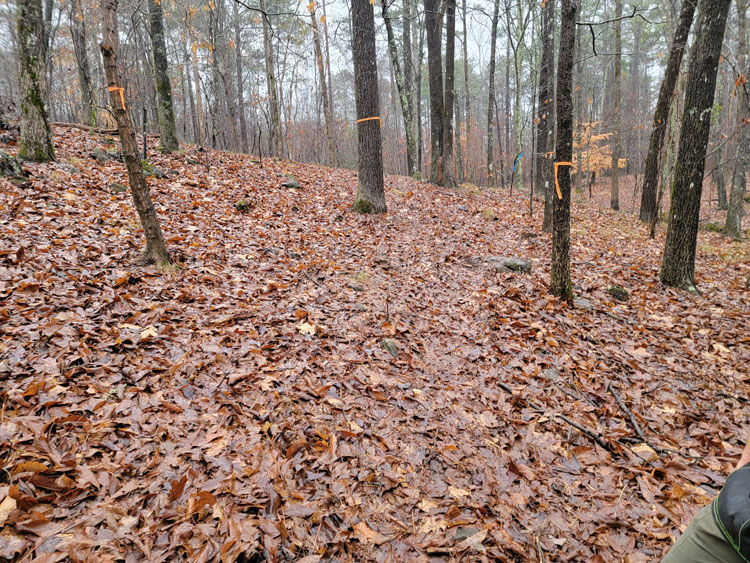 VOLUNTEER!! YOUR PARK NEEDS YOU!!
You will be working with and following the instructions of a Kennesaw Mountian Trail Club Crew Leader(s) to which you will be assigned. We will work in a group if possible. We will learn the procedures of how to make our trails better for today & for the future.
We will meet at the Pigeon Hill Parking Lot, parking in the field at the end of the parking lot. A volunteer will provide a parking pass that will allow you to park there. Introductions will be conducted by members of the Kennesaw Mountain Trail Club and a review of safe working procedures will be done. Teams will be assigned and we will proceed to our assigned work sites after a group safety breif has been conducted.