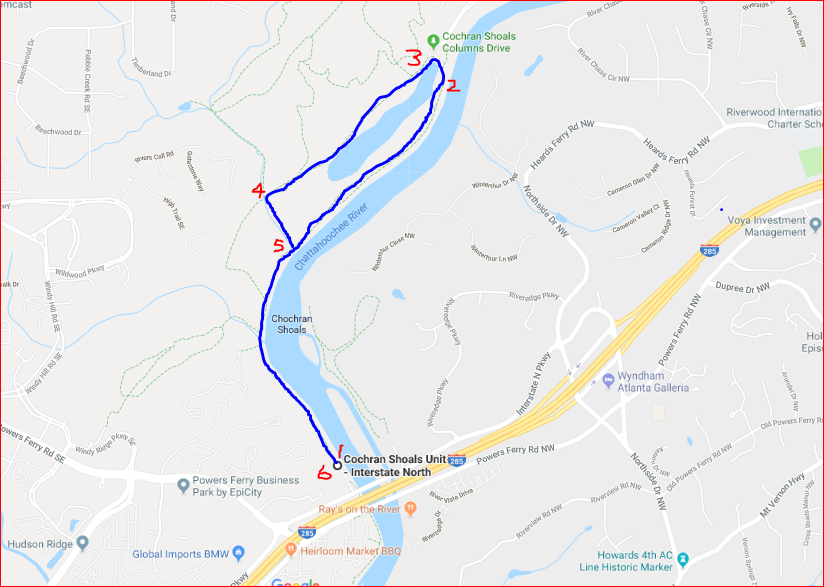 <<< 3.3 x 4 = 13.2 miles >>>
Numerous studies show jogging is one of the most efficient ways to increase our fitness and endurance level. So let's go jogging in this beautiful park.
Because we promise to meet, our events will help us making and keeping our commitments, hence much more likely reaching our goals.
Come join our trail run @ Cochran Shoals. We are going to go (4) rounds = 13.2 miles (Half-Marathon)
<<< Itinerary >>>
This is a go at your own pace event. We'll run along the beautiful Chattahoochee River. You are welcome to join us, or go at a faster or slower pace that you are most comfortable.
The distance is 21K+ (13.2 miles).
We meet at Interstate North parking lot of the Cochran Shoals CRNRA. It's better to arrive a little earlier before the starting time for getting a parking (not very easy on weekend), restroom, warm up, a quick review, and introduction.
<<< A Safe Method >>>
Easy jog is a little faster than the fitness hike, but at a comfortable pace. The easiest and safest way is to use Jeff Galloway's run-walk method. Just go to his web site to learn more at www.jeffgalloway.com. It takes a little experiment and practice to find the most comfortable run-walk interval for each individual.
A simple interval timer GYMBOSS or HONMAX is extremely helpful. You'll be amazed how much this small timer can help not only for interval run-walk, but also many other regular exercise routines.
Easy jog with consistent walk breaks will increase the amount of our exercise in less time than regular walk/hike. It's a great way to build up our fitness and endurance level with tremendous health benefits!
Most importantly this method will help us avoid injury, stay healthy, and recover faster so we can enjoy running with longevity!
Group-run events are very motivational and fun. We will be more likely to follow a good training program and progress to a longer distance.
<<< Our Goal >>>
We aim to avoid injury, stay healthy, and have fun and longevity for our run.
Why pay expensive registration fee to run a Marathon or Half-Marathon. We're born to run. Our own events are fun, motivational, and very enjoyable. They are also free!
We have
Great hobby, healthy exercise, and the sense of achievement.

Group-run events with lots of fun and motivation to follow through.

Beautiful Hooch River views with friendly soft and wide open trails.

Fresh and clean air.

Many other runners and walkers to be our company along our course.

Aid stations with all the supplies we need right inside our own cars.

Total flexibility to schedule our event to catch nice weather. This can make a whole world of difference to have the most enjoyable experience!

Gained more experiences and confidence before signing up many other paid running events, if and whenever we feel like doing that.
We don't have
To pay expensive registration fee.

One more souvenir T-shirt of no use.

To spend travel time and expenses for out of town running events.

The pounding on the hard concrete and asphalt surfaces from typical road running events.

The traffic to dodge and car exhaust pollution from typical road running events.

Roots, rocks, and many other risky obstacles from typical trail run events.

The burden and cost to pay police to control traffic.

The burden and cost to summon volunteers to establish traditional aid stations.
<<< The Course >>>
The course starts and ends at the Interstate North parking lot. It is a lollipop and we'll go along the stick first, then the counter-clockwise direction around the loop, and then back to the stick to complete one round.
Follow the Chattahoochee River going north to a fork: 1.5 miles.

Turn slight left towards Columns Drive parking lot: 0.1 mile.

Turn left and loop around to take the inland trail going south: 0.7 miles.

Turn left right before a bridge to go back to the main trail: 0.18 miles.

Turn right to cross a bridge and get back to the starting point.
One round is 3.3 miles (5K+), 2 rounds 6.6 (10K+), 3 rounds 9.9 (15K+). Go 4 rounds 13.2 miles, and 8 rounds 26.4 miles.
Aid stations with water, snack, nutrition, and first-aid packs in a typical running event are set up often to be 2 to 3 miles apart. So our cars in the parking lot are perfect to be our own aid stations.
<<< Guidelines >>>
We synchronize and verify our watches before we start.

Go at your own comfortable pace, and follow the event course.

Walk, power walk, slow jog, run, or any combinations.
<<< Logistics >>>
Daily Parking fee is $5.00 cash, or display your annual pass.
Restrooms are available at both parking lots of Interstate North and Columns Drive.
If you need to purchase a day parking pass, you can do so at the parking lot.
Annual pass is a great way to motivate oneself to keep coming back and enjoy all of the National Recreation Area parks and national parks throughout the USA. It is more convenient and very cost effective.