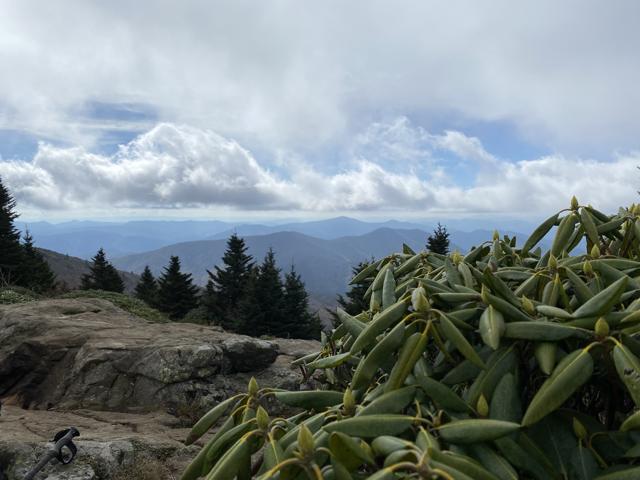 This is a rescheduled trip going from winter to spring, but decided to keep the description below, because I'm lazy and I might want to use it in the future. But in April, it's possible things could be quite a bit different, with wildflowers, longer days, and a bit more color...
Does backpacking at high elevation in the winter sound good to you? How about following a high ridgeline on the Appalachian Trail, winding over balds, and thickets of trees? How about the smell of the spruce-fir forests, only enjoyed at the highest elevations in the southern appalachians? Or the taste of clean mountain water? Does fresh mountain air evoke memories of past trips at high altitude? Or that the waxing moon rise will be from 84-90% full!? Well then, this trip might be for you, because those hills are alive!
The total distance from Carvers Gap to 19E is about 17.5 miles, including a side trail up Grassy Ridge Bald at almost 6200'. And I highly recommend that side trip, since the views from top are incredible.
The first day, after taking shuttle to Carvers Gap, it's about 7.5 miles to our 1st camp. The 2nd day will depend on which campsite we get, but we won't go beyond Doll Flats. On Sunday we wind down the mountain back to the our cars. The total ascent is about 2k', but the descent is almost 3k', and at times steep on the way down. You must be sure of foot and in good shape for this journey. We won't be going at a fast pace, but it will be a good strong moderate pace, with plenty of stops to enjoy the views. It's a place to enjoy the rewards of your hard workouts and staying in shape, not the place to get in shape.
You will need to be prepared for the possibility of snow and ice and cold temperatures. If you're still interested, then you know you may need microspikes or yak trax. Gators, good cold weather footware and clothing. A cold weather sleeping bag, and a mattress or mattresses to keep the cold from seaping into the compressed bottom of your sleeping bag. How to prepare your water in sub-freezing temperatures, where many water filters fail. You will also be the type who knows the value of "twice warmed", when it comes to fire prep. You will be the type who leaves no trace, and never ever leave your trash behind. Because you're a nature lover, you respect multi-use wilderness areas, and want to pay it forward when given the opportunity. Where you exercise like a freak to stay strong so that you can stand on the mountain ridge and take it all in, and enjoy!! Where you enjoy the comararderie of your fellow hikers. Is that enough reasons!?
Many of you already know I enjoy the fellowship around the campfire in the evenings, and the peaceful mornings over a cup of coffee. You never know what you'll see or hear when you open yourselve to your surroundings and enjoy the moment. I love being where there's no service, no drama and quite literally go into a sort of walking meditation. It's where we get balance and purpose! And joy! That's why we do this afterall...joy of life any way we can get it.
So if you're already a seasoned cold weather backpacker, and have maintained an active lifestyle staying in shape, come on out and join us if you're open.
This trip will be cancelled due to excessive rain.
Michael J.