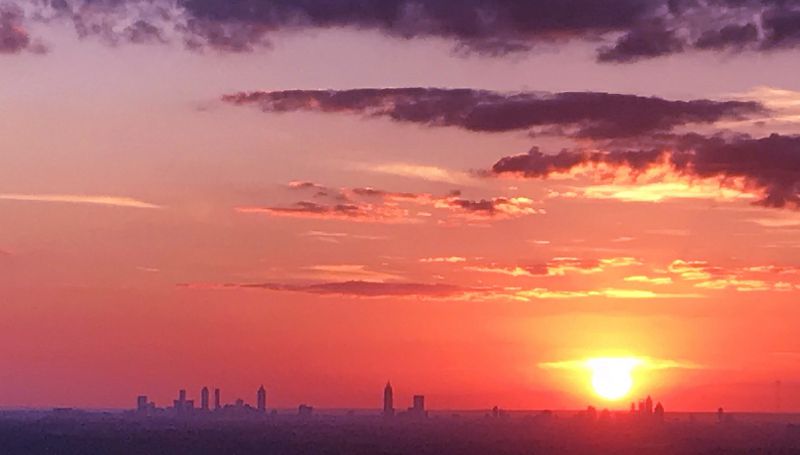 To all you lovers of the Solar System:
Word on the street is that early next week (March 28th or so), five planets, count 'em, FIVE planets will be visible in the night sky at the same time. Assuming there is no low-level cloud cover, this rare alignment of Jupiter, Mercury, Venus, Uranus, and Mars should be visible in the night sky, and if you look down at the ground beneath your feet, you get to see a bonus planet - Earth - at no extra cost. What a deal!
Here's the plan: Sunset is scheduled for 7:56 PM. We'll start up the mountain at 7 PM (from the Whistle Stop station, near the restrooms, next to Confederate Hall), get to the summit, tag the geo markers, find a suitable place on the Western face, and settle in to watch the sun dip below the horizon, followed by the rising of the moon and the appearance of the five planets in the darkening sky. Once we've spotted our Quintet, we'll make our way back down the mountain to the parking lot.
Fair warning:
1. We'll be hiking down the mountain in the dark, so a headlamp/flashlight is critical, and mandatory.
2. If you have mobility issues or are uncomfortable with traversing rocky terrain in the dark, this is not the hike for you!
3. This is a weather-dependent event. In other words, if there is any significant cloud cover and I have to cancel the event, I will text you at least ONE HOUR before the start of the event.
BTW, entry to Stone Mountain Park is $20 per vehicle, unless you buy an annual pass for $40. You can avoid the fee by parking for free on Main Street in Stone Mountain Village and walking into the park (see directions below).