Second Group... (btw we are using one waitlist for both groups). And to help with the long waistlist, Tom and Lucy have posted a hike for Sunday so that is another alternative if both of these are full)

Ok what is a "waterfall party"? Lets see if we can figure it out...

We had fun at Panther Creek Falls recently and decided to return soon. When we took our last group on 6/26, there were already about 20 people down at the falls before we arrived, so any summer weekend day will be crowded. It is not a place to find solitude this time of year....it is a very popular spot and for good reason.

So instead, we will go in the opposite direction. If this event fills up and there are 15 or more on the waiting list, we will add a second group and stagger the start times. Then we can all meet up at the falls.

But with both our groups there, it should be even more of a party atmosphere and should be fun to see everyone taking in the natural scenery, playing in the cool water and just relaxing and enjoying good company.

And rumor has it that another outdoor club may be down there too. Because there is some overlap between the people who participate in the various clubs/groups, you might see some additional friends as well. (And I actually talked to the trip leader of the other group and he's fine with it too).
Our plan to get to the falls is to take the main trail in from the the eastern trailhead...this is the one that most everyone uses. But by using a car shuttle, we will hike out on the 1/2 mile shortcut trail rather than having to trek all the way back.
But we will spend at least a couple of hours at the falls, just relaxing and swimming, etc.... maybe some games as well. You can actually wade all the way from the little beach to the waterfall without having to really "swim". Or if you want to just relax on the beach, you are welcome to. But that water will feel SO good on a hot summers day and most will choose to get in and enjoy it.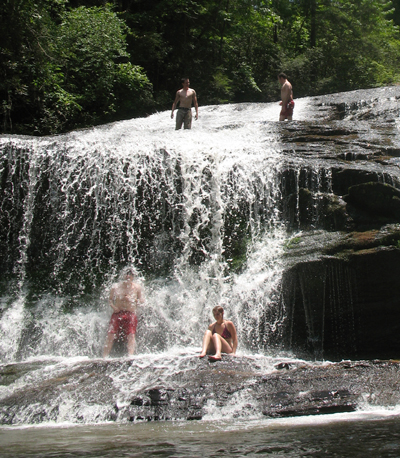 The total hiking distance will be about 4 miles..but the terrain makes it a D3 for sure with a couple of rocky areas where you need to be extra careful. Also the shortcut trail out is a bit steep for the first 1/4 mile.

We should be back by late afternoon, so if you have any Saturday evening plans, they should not be affected.