(We are adding a second group so more can attend this one..St Mtn is a special case with it being so crowded and the trail being so easy to follow)

This another in the Summit Sunset Series where we enjoy sunsets from some of the finest scenic viewpoints in GA...all on or near mountain peaks. If you've never had this experience, you don't know what you're missing, so time to find out...

For this one we are going to try for the hat trick of sunset, moonrise and fireworks. Of course weather or other unforeseen circumstances could derail one or more of these, but we'll give it a shot.

This event is very flexible with when you arrive or leave, so read below for more details if you aren't sure if it will work for you (i.e. if you don't want to stay out too late).
But here's the plan:

7:00 PM - meet at the restrooms near the beginning of main walkup trail. To get warmed up before we hit the mtn, we'll begin with hike of the Stone Mtn Nature Trail. This is only about a 2 mi roundtrip from where we are starting out and should just take about 45 min. We will return to the restrooms and take a break and people can refill their water, etc.

7:45 PM - we'll begin hiking up the main walkup trail. If you want to skip the nature trail part and arrive later and start at this point, that's fine. But everyone can head up the mtn at their own pace and take either the main trail or the gravel road up. We will meet at the top and then do a little 1/2 mi hike around the eastern side of the summit area.

8:48 PM - Sunset - hopefully we'll get lucky with a sweet one. After the sunset, you can choose to either head down. or you can hang out and just enjoy the cool breeze and and the city lights below...very peaceful up there. Or you can hike down and back up (as your trip leader may do).

10:12 PM - Moonrise - The moon will still be about 95% illuminated even though it is two days after official full moon.
10:15 PM - Fireworks - The lasershow starts at 9:30 and ends at around 10:15. They shoot off fireworks during and at the end of the show and it is from fun to watch those from above. We will head down the mtn after this, at about 10:20 PM.
Total distance is about 4.5 miles and elevation gain of about 900 feet. Pace will be moderate on the nature trail part and everyone goes up and down the mtn itself at their own comfortable pace.

There is an AOC cycling event scheduled a couple of hours before this hike, so we may be able to meet up with some of those fellow AOCers if they feel like checking out the sunset after their ride.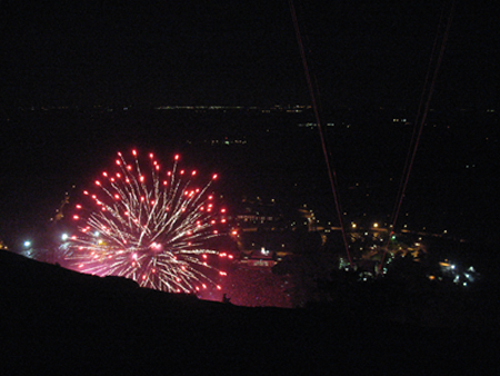 We will meet near the start of the walk-up trail near the parking lot beside Confederate Hall. There is a $10 fee to drive into the Park; however, free parking is available in Stone Mountain Village. See directions below...