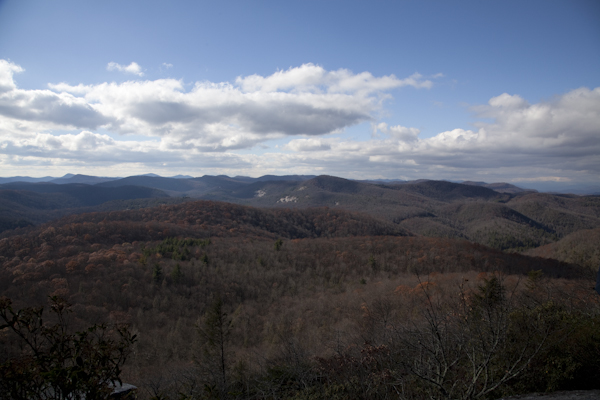 Panthertown Valley, a/k/a Yosemite of the East, is a beautiful area with plenty of waterfalls. In addition, there are hundreds of species of trees, shrubs, vines, wildflowers, mosses, lichens and large mushrooms. Panthers no longer roam the valley, but you may see deer, fox, raccoon, skunk, barred owl, grouse and snakes. The streams are full of brook trout. And the views from the top of the cliffs are absolutely spectacular! Be prepared to backpack about 1.5 miles to our campsite near Tuckasegee river just past the Sandbar Pool; the campsite is very nice and flat. After setting up camp, and eating lunch, we will either be hiking to the top of Cold Mountain, which is about a 1000' elevation gain, and about an 8 mile round trip, or going to a special waterfall that requires navigating down a very little used trail, that seems more like an animal trail than anything.
On Sunday we can take a short hike to School House Falls and the top of Little Green Mtn for another beautiful view of the valley below. After the Sunday hike, we will break camp and backpack out the way we came in, about 1.5 miles, but since it goes back up and out of the valley, you need to be in good shape. So come join us on our adventure to this valley nestled along the eastern continental divide. This is a nature's lover hike, and we won't be rushing from one place to another, or rushing to get back to the city. But you'll still need to be in good shape, so pay more attention to the mileage and elevation gain rather than the rating, which is more generalized. These mountains are high, and the terrain can be rugged for those unprepared.
Event Directions:

North on I-85 to exit 1 in SC, then north on Hwy 11 about 20 miles to Walhalla. Then north on Hwy 28 and branch to right on Hwy 107 north to Cashiers. At the stoplight in Cashiers, take US 64 east for 2 miles to Cedar Creek Road (SR 1120) and take a left. Proceed on Cedar Creek Road for 2.3 miles to Breedlove Road (SR 1121) and turn right. Proceed onto Breedlove Road for 3.5 miles to the Forest Service gate and the Salt Rock Gap trailhead.