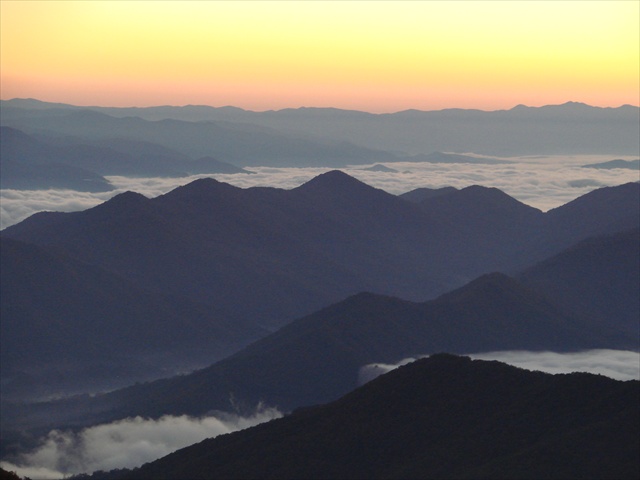 This hike is for very fit hikers, since there is a 13,223 elevation change in 21.3 miles. We'll hike 3.5 miles to camp our first night on top of Bob Stratton Bald. This is a spectacular mountain vista high above the valleys with awesome views.
The 2nd day we'll hike down into the Slickrock Valley, with a short detour to have lunch on top of Hangover. Total distance will be about 7 miles, but we'll descend about 3500'! Over 10 yrs ago, I wrote the following description of this valley. Thanks to Kristi for forwarding this to me.
"Come join us in the valley of the giant toads and fat bats. We camp beside gentle rapids a short distance from Wildcat Falls. In a November trip I watched a small Black Bear walk across the top of the falls and disappear quietly into the forest. During the day, you can swim, hike, read, or do just about anything you want to do. Once we set up camp, we'll stay there until it's time to go back to the city. At night, for the more brave hearted, you can venture from the security of the campfire and look at the glowing worms or sit beside the giant croaking toads. Also, if you walk down to the top of the waterfalls and look up at the sky at twilight, you can watch the fat bats doing their best on bug control. Don't worry, no vampire bats here!"
The 3rd day we'll hike back up the ridge only a couple miles and camp at a former homestead and apple orchard (thanks Kristi and Debbie for bringing this site to my attention). I haven't been to this campsite, or taken this trail before, so this is the part that becomes exploratory. Because it's a short hike on this day, I don't plan on leaving the Slickrock valley very early. I love Wildcat falls in the morning, and want to enjoy as much of that valley as I can on this trip. You can do yoga, take an icy cold dip in the water, read a book, write in a journal, anything your heart desires, except be in a hurry to leave. To be fair we'll discuss departure times while down there.
The next morning we will hike the final 8.6 miles through Citico Creek in TN, back out to the trail head.
If you haven't done D6 backpacking trips with me, I will need a way to find out your fitness level and your experience. This will not be a race, from my point of view, but to avoid injury or lack of time spent near each of our base camps, it's mandatory, that you are experienced in mountain backpacking. Thanks for your cooperation in advance.
Michael Johnson
Required Items to Bring:


Tent, Sleeping Bag, Sleeping Pad, Appropriate clothing, rain gear, headlamp, cooking utensils, food and water.

Recommended Items to Bring:
Use our Event Checklists to make sure you have everything you need.


camera, hat, daypack/fanny pack, water filtration system, beverage of choice, musical instrument, fire starter, first aid kit