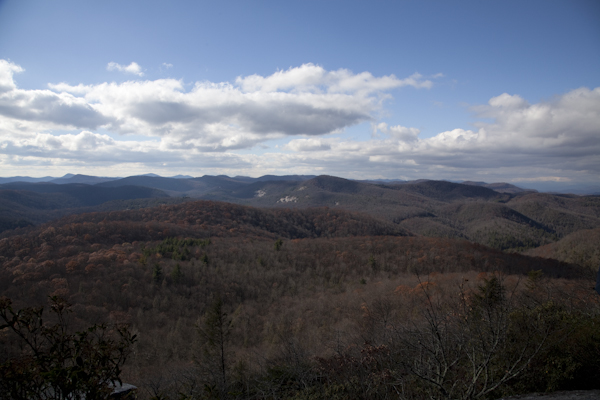 Panthertown Valley, a/k/a Yosemite of the East, is a beautiful area with plenty of waterfalls. In addition, there are hundreds of species of trees, shrubs, vines, wildflowers, mosses, lichens and large mushrooms. Panthers no longer roam the valley, but you may see deer, fox, raccoon, skunk, barred owl, grouse and snakes. The streams are full of brook trout. And the views from the top of the cliffs are absolutely spectacular!
Our camp will be a little under 4k', which is down in the valley, so you need to be in good shape, and able to handle higher altitude for this trip. It's a relatively easy backpacking trip relative to many backpacking trips in the mountains, but due to the alitude, this is not easy for people unwilling to workout and remain in good physical condition.
We will set up camp near the sandbar pool, and have lunch. I intend to hike up river from Schoolhouse falls, spending most of the time in the water at Pot hole and other swimming holes found along that area of the valley. Footware for hiking in water will be beneficial, but not mandatory. It's mid-July, the water will be inviting.

On Sunday we can take a short hike to School House Falls and the top of Little Green Mtn for another beautiful view of the valley below. After the Sunday hike, we will break camp and backpack out the way we came in, about 1.5 miles, but since it goes back up and out of the valley, you need to be in good shape. So come join us on our adventure to this valley nestled along the eastern continental divide. This is a nature's lover hike, and we won't be rushing from one place to another, or rushing to get back to the city.