Come out and join me for my annual participation in Rivers Alive!
For the past 6 years, I've participated in Rivers Alive at different cleanups around Cherokee county and Woodstock. Each time I've gathered a group of AOC'ers to join me in the cleanup efforts organized by the Cherokee County Water & Sewer Authority, Upper Etowah River Alliance, The City of Woodstock, and The City of Holly Springs. This year I'm helping out Woodstock again.

Why the town of Woodstock you ask?
Olde Rope Mill Park is actually home to some amazing bike/hike trails. The park lies on the banks of Little River, which offers kayak/canoe opportunities and as well as a pathway to Toonigh falls, Blankets Creek and Lake Alltatoona. Woodstock is also my hometown. :-) So there you have it!!! I hold this area near and dear to my heart and I love helping to protect it's beauty.

So if you join me, which I hope you do, we'll meet by the pavillion at Olde Rope Mill Park. We'll clean up the park primarly by land, but if water levels permit, I'll ask for kayaks and canoes to help as well. The official event starts at 9am and goes until 1 pm, but I would like our group to meet at 8:50 am. There's plenty of free parking.
Cleanup by land: We'll comb the riverbanks of Little River on both sides of the park and both upstream and downstream.

Cleanup by boat: (Water levels permitting) This would be a BYOB(oat) effort. Those in boats (kayaks or canoes) will go as far upstream and downstream as we can.

FREE Rivers Allive T-shirts will be giving to us for our volunteer efforts, but are at a first come first serve basis.

Cotton gloves and trash bags will be provided, but if you prefer to bring your own gloves, please do so. The cheap rubber dish gloves or thick garden gloves work really well.

This is a volunteer event sponsored by the following organizations:
Rivers Alive
Cherokee County Water & Sewer Authority
Upper Etowah River Alliance
City of Woodstock
City of Holly Springs

The sponsors will provide a few breakfast items, coffee, and water in the morning prior to the cleanup. There will be provided to the volunteers after the cleanup.

AOC Volunteers from Fall of 2013!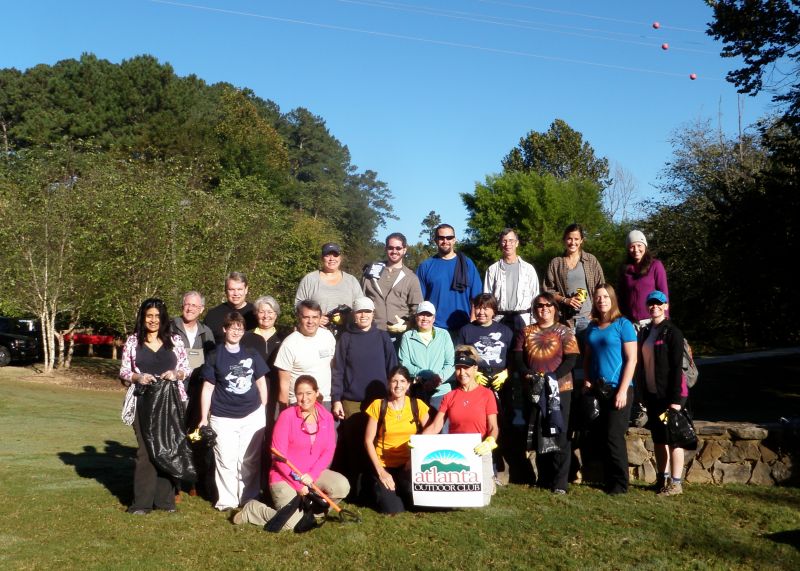 AOC Volunteers from Fall of 2012!!


AOC Volunteers from Fall of 2011!!
AOC Volunteers from Fall of 2010!!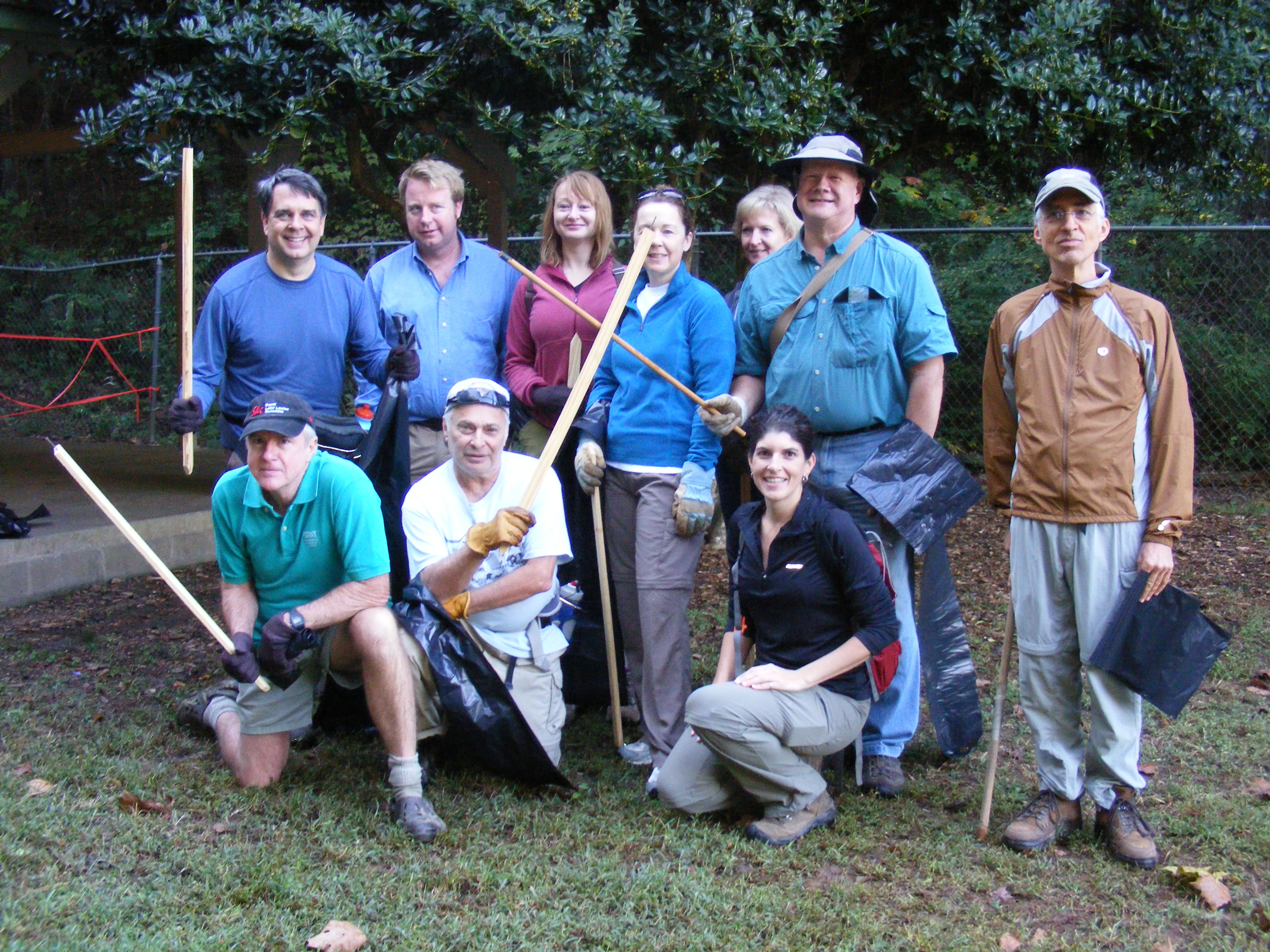 AOC volunteers from fall 2009!

AOC volunteers from fall 2008!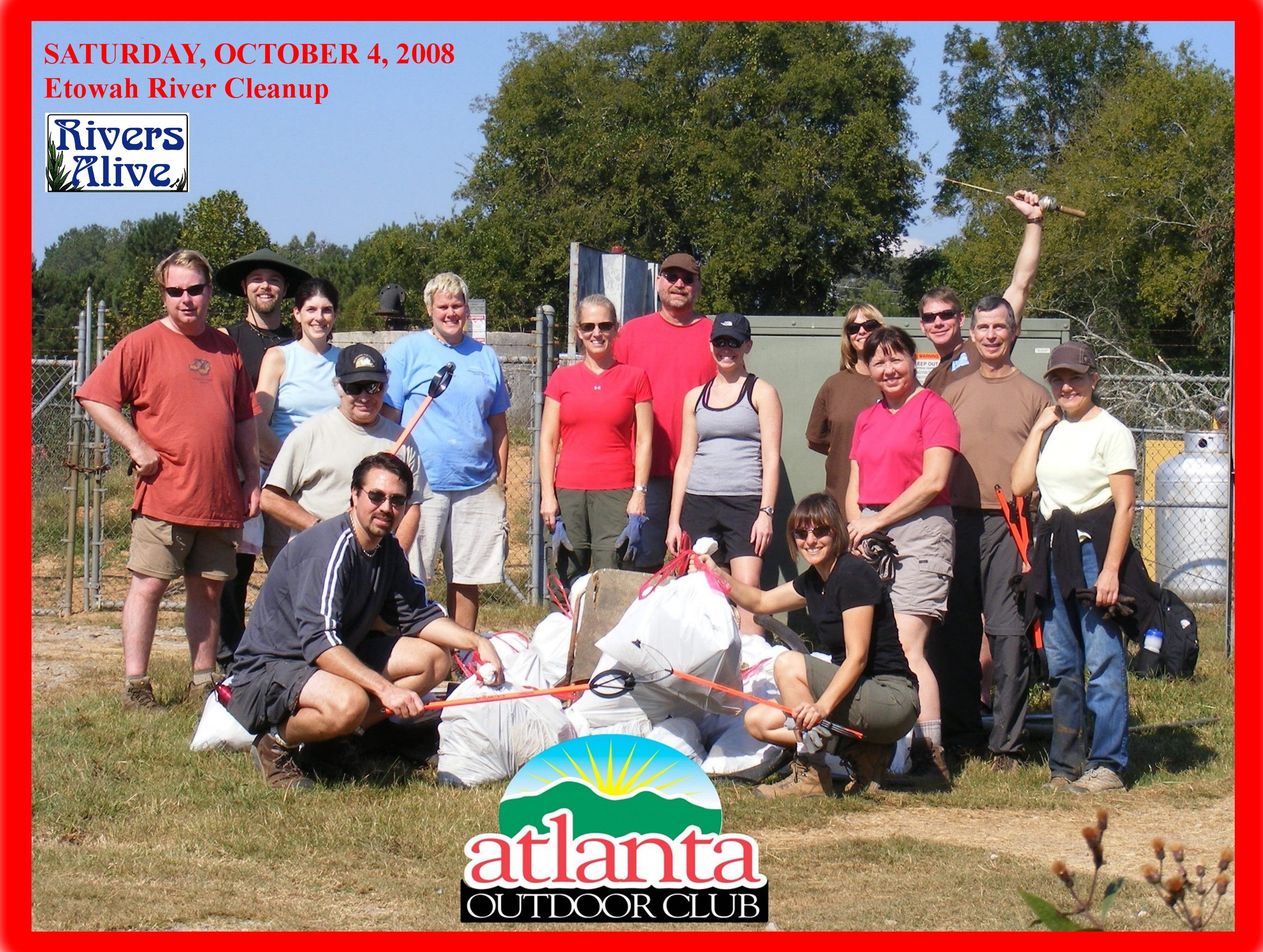 Volunteering for environmental cleanups and trail maintenance activities are truly rewarding experiences and tons of fun at the same time, so I hope you can come out and join me.