Join us for a fun weekend of camping at George L. Smith State Park. This beautiful secluded park, located in middle Georgia, offers 7 miles of trails, a grist mill, covered bridge, a dam built in 1880, and lake filled with cypress trees perfect for canoeing and kayaking.
We will arrive Thursday evening, set up camp, and chat with our fellow campers around the fire. Friday and Saturday we are on our own to explore the park. Groups may choose to hike, bike, or paddle - or all of the above! If you do not have a kayak or canoe, the park offers kayak and canoe rentals for $10 per hour.
Please note that you will need a park pass or pay a $5 parking fee at the park. Campers will also need to carry their belongings 200 yards from their cars to the campsite. This is still close and you should bring all your comfort camping gear.
Everyone is on their own for meals so bring your own food and cooking equipment. Remeber our cars will be close enough to bring your stoves and coolers!
The Pioneer camp site has two Adirondack shelters, picnic tables, a fire ring, potable water and a pit toliet. We will not have access to showers.
**This event is scheduled to begin on Thursday and end on Sunday. If you cannot take the extra time off work, you are welcome to join the group on Friday.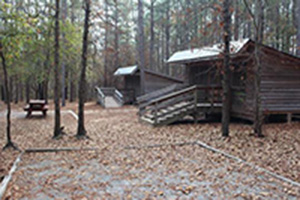 DOG DETAILS:
Group Limit for dogs: 4 dogs
Dogs are welcome on this event as long as they are supervised by their human at all times. George L Smith State Park requires your dog must be leashed. The pioneer camp site is set off away from the camp ground. You may choose to allow your dog off leash at the campsite. Your dog must be well behaved and not be a nuisance to other campers. Rangers may stop by the camp site on occasion and might issue tickets for off leash dogs. Also, dogs are not allowed in or around historic sites, cottages, lodges, group camps, and swimming areas. Humans are responsible for the care and feeding of their dog and should ALWAYS clean up after their dog. Humans are solely responsible for their dog's behavior, and dogs that cannot be controlled may have to be leashed, or in serious cases, leave the event.