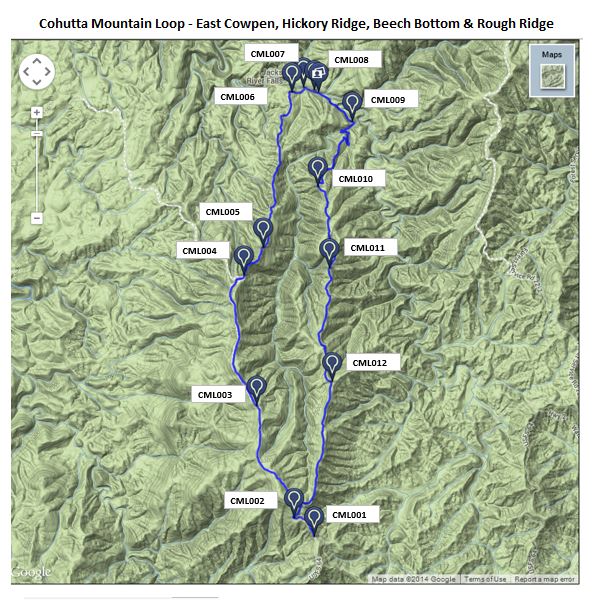 Dotted with place names like Crooked Dog Gap and Rough Creek, this 15.5-mile route mixes rugged ridgeline
climbs and quiet riverside campsites.
Distance: 15.5 miles
Concurrent Mapping and Localization (CML) points are below.
Map is at http://www.trimbleoutdoors.com/Maps/EmbeddedMap.aspx?tripId=36478&w=800&h=800&b=1
CML001 Location: 34.8815613, -84.5658722
From Three Forks parking lot, begin gentle ascent amid mature hardwoods
CML002 Location: 34.8852959, -84.5707321
L @ Y, bearing NW on East Cowpen Trail to begin the clockwise loop. Ahead, skirt the E edge of Cowpen Mtn. (4,151 ft.)
CML003 Location: 34.9073372, -84.5796661
Straight @ 3-way; to R, hemlocks and oaks shade campsite with space for 4 or 5 tents. Trail heads N past Buckeye Mtn.
CML004 Location: 34.9329491, -84.5826797
Cross wide spot on ridge; go straight @ T bearing NE on Hickory Ridge Trail
CML005 Location: 34.9384308, -84.5780411
Pass lone 12-ft. American holly tree; heading N, descend along gully on N side of Turkey Stand Lead
CML006 Location: 34.9689865, -84.5712128
Forest transitions from hardwood to hemlocks with lush undergrowth
CML007 Location: 34.9699326, -84.5683899
Beech Bottom: fish for trout, soak in stream, enjoy starry skies.
To continue, head SE on Jacks River Trail. Cross Jacks River twice.
CampsiteLocation: 34.9689903, -84.5648193
Small camp site here along Rough Creek; room for one or two tents
CML008 Location: 34.9693756, -84.5659027
Cross Rough Creek and turn R, traveling SE; we will make our camp site in this area
CML009 Location: 34.9631729, -84.556778
R @ Y into Rough Creek; climb side gully to reach N end of Rough Ridge
CML010 Location: 34.9504128, -84.5650253
Look SW for vantage of Rough Creek cutting through deep, forested gorge; pass spring just S of Crooked Dog Gap
CML011 Location: 34.9343452, -84.562294
Rollercoaster over oak-dominated hills and saddles on Rough Ridge
CML012 Location: 34.9119568, -84.561615
Straight @ unsigned 3-way; head S along crest away from Sugar Cove; in 2.1 mi., close loop @ CML002; backtrack to start
Here's an elevation profile of the hike: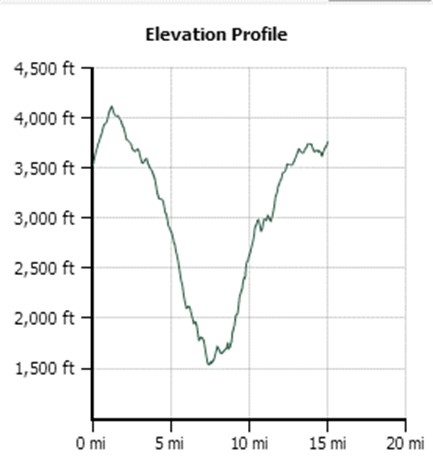 Survey

Elevation:
Total Gain: 4260 ft
Total Loss: 4018 ft
Net Change: 242 ft
Here's a sign at the intersection of Rough Ridge Trail and Jack's River Trail which we will encounter after our second Jack's River crossing. Just before reaching this sign is a small campsite with room for one or two tents. We will continue towards Rough Ridge Trail from here and traverse Rough Creek in .25 miles. Once on the other side of Rough Creek we will set-up our camp.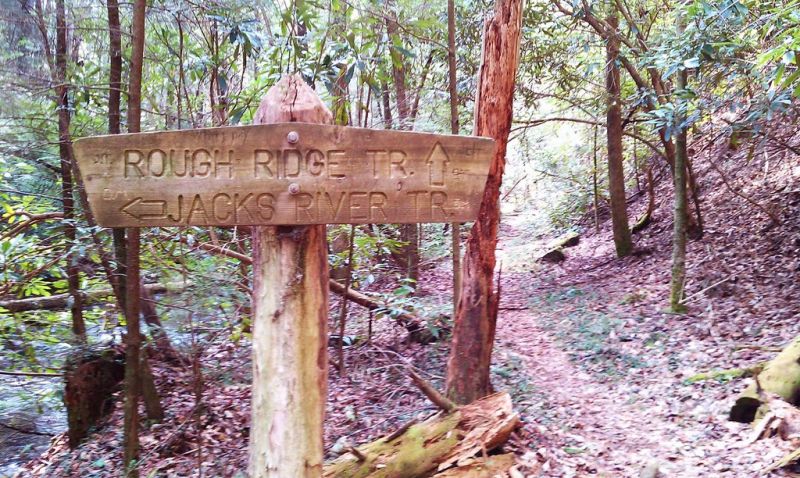 Here's a map to a back-up camp site if we need it. Thanks to Kristi Eide for the information.
The camp area is visible from the Jack's River Trail and is down a slope from the trail. (See white circled area.) If you're hiking north (up river) on the Jack's River Trail, with the Peniteniary Trail behind you, the campsite is down on the left, before crossing the creek.
If you're hiking south towards Peniteniary Trail, you'll cross the creek and the Jack's River Trail starts climbing up a hill; you should see the campsite on the right... there is a little trail going towards it.